Welcome to the Global Fortification Data Exchange (GFDx), an analysis and visualization tool for data on food fortification. Food fortification adds essential vitamins and minerals, called micronutrients, to commonly consumed foods to prevent nutritional deficiencies. We call these commonly consumed foods that can be fortified food vehicles because they "deliver" nutrients.
Food fortification is one of the most scalable, sustainable and cost-effective interventions to combat micronutrient malnutrition.
Vitamin and mineral deficiencies affect people globally – impacting their health and limiting their ability to contribute to the economic well-being of their communities and countries.
Designed for, and by the fortification community, the GFDx provides all the data necessary to track global progress on food fortification, and to enable decision makers to use data to improve the quality of national fortification programs.
The GFDx aggregates and visualizes data on five commonly fortified foods: maize flour, edible oil, rice, salt, and wheat flour. The GFDx includes indicators on food fortification legislation from 1940 to the present, fortification standards, food availability, and intake for over 190 countries. Within the GFDx site, you are able to generate custom maps, charts, and tables or download data for offline analysis. The GFDx will be continually updated as new data and information become available.
Data on proportion of food industrially processed, availability of regulatory monitoring protocols, fortification quality, and population coverage will be added soon.
Get in touch to share your experience with the GFDx, contribute your data, or learn how to get involved. Sign up to receive updates as new data and features are added.
Suggested Citation: Global Fortification Data Exchange. [Accessed dd/mm/yyyy.] http://www.fortificationdata.org.
Country Fortification Dashboard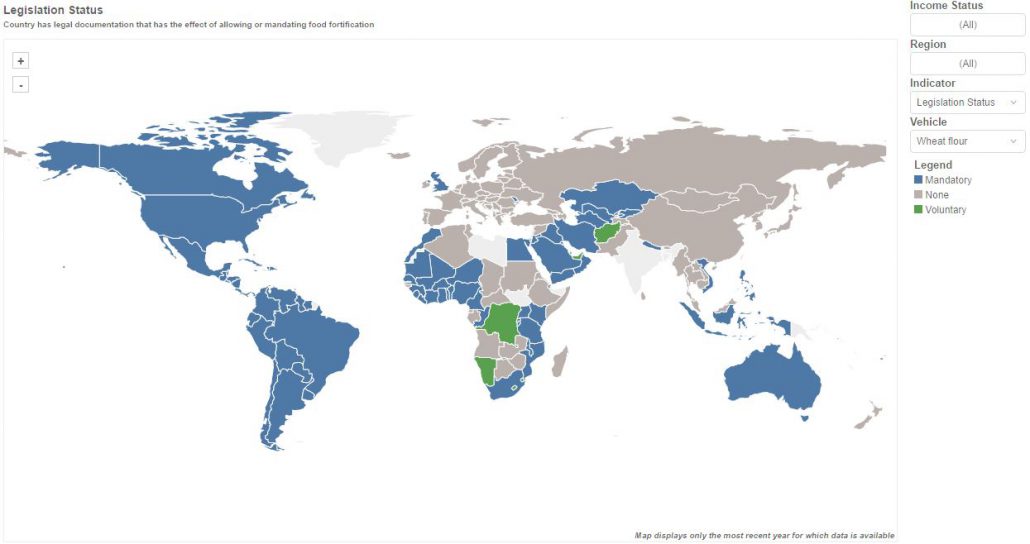 Map: Fortification Legislation
Map of legal status of food fortification by country (filter to select indicators and parameters)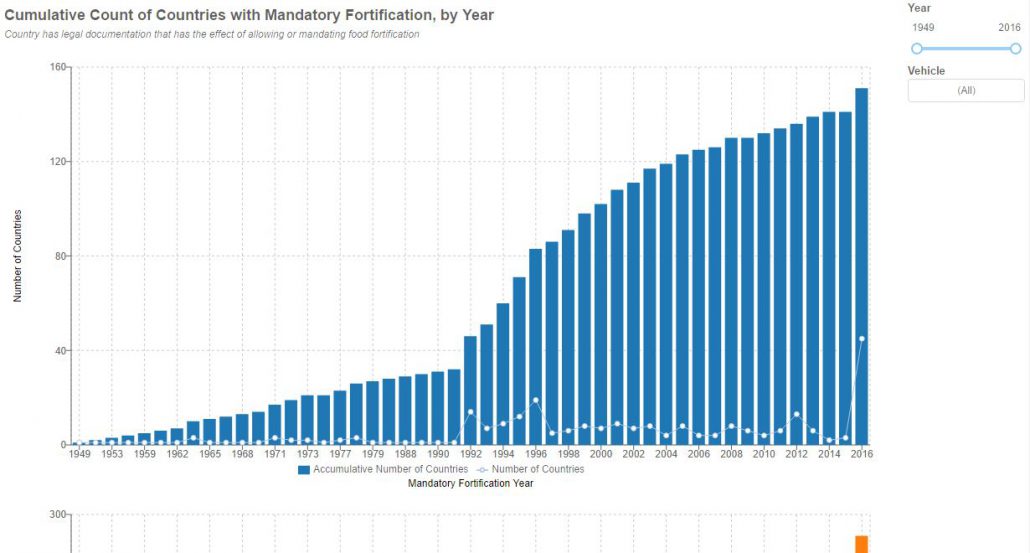 Chart: Year When Food Fortification Mandated
Chart of the number of countries with mandatory food fortification over time (filter by specific food vehicle(s))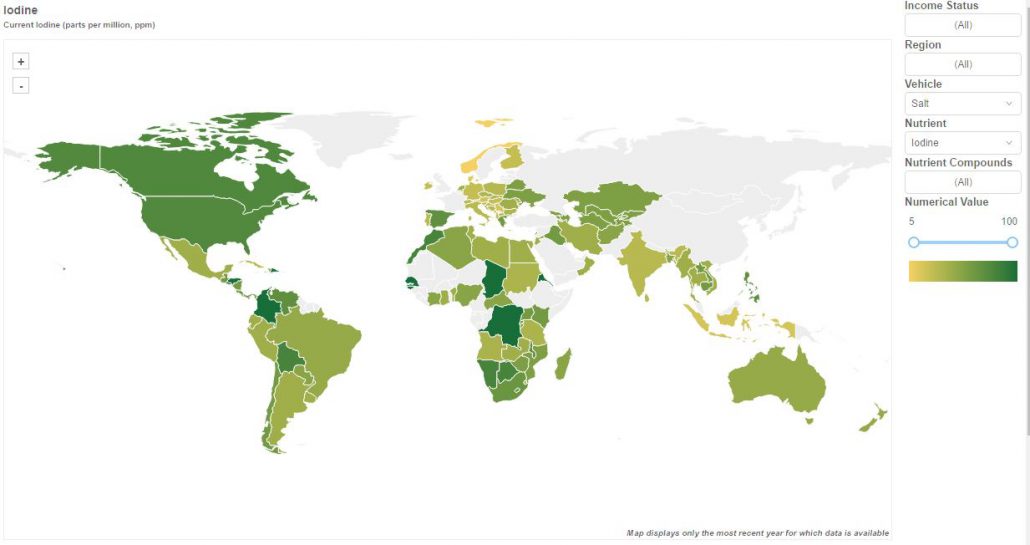 Map: Number of Food Vehicles with Standards
Map counting the number of food vehicles with fortification standards by country (filter to select indicators and parameters)
Map: Nutrient Levels in Fortification Standards [mid-range or average]
Map displaying the amount of each nutrient required in food vehicles by country (filter to select indicators and parameters)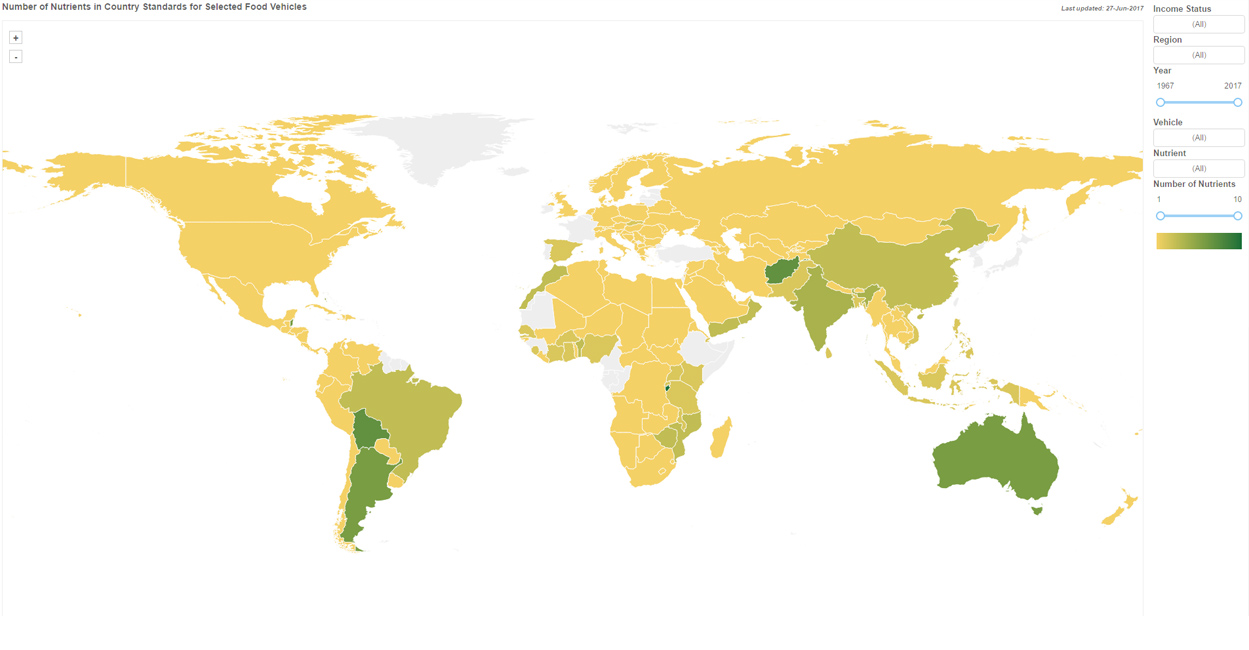 Map: Count of Nutrients in Standards
Map counting the number of nutrients required in food vehicles by country (filter to select indicators and parameters)
Food Intake
&

Availability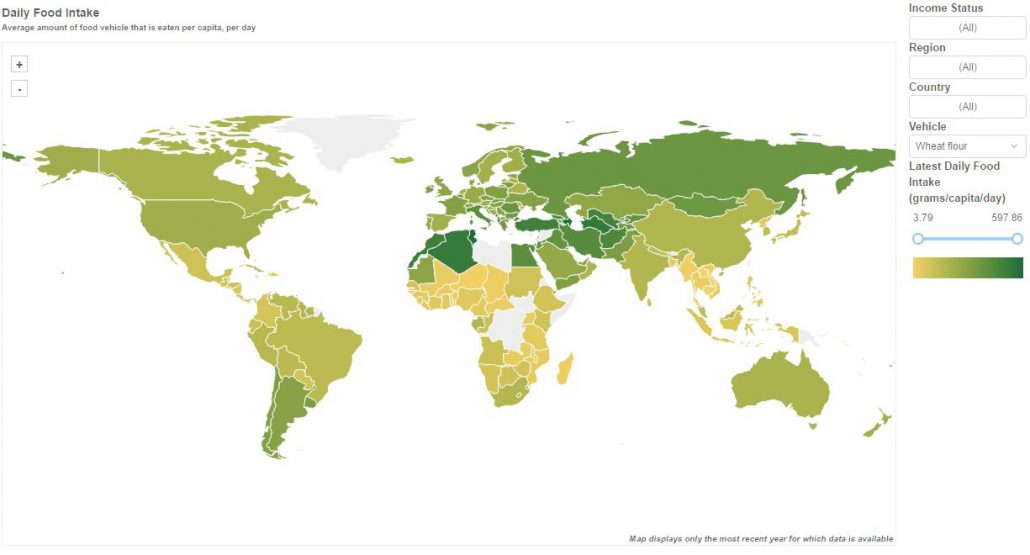 Map: Food Intake and Availability
Map of the average annual amount of food available or consumed per capita by country (filter to select indicators and parameters)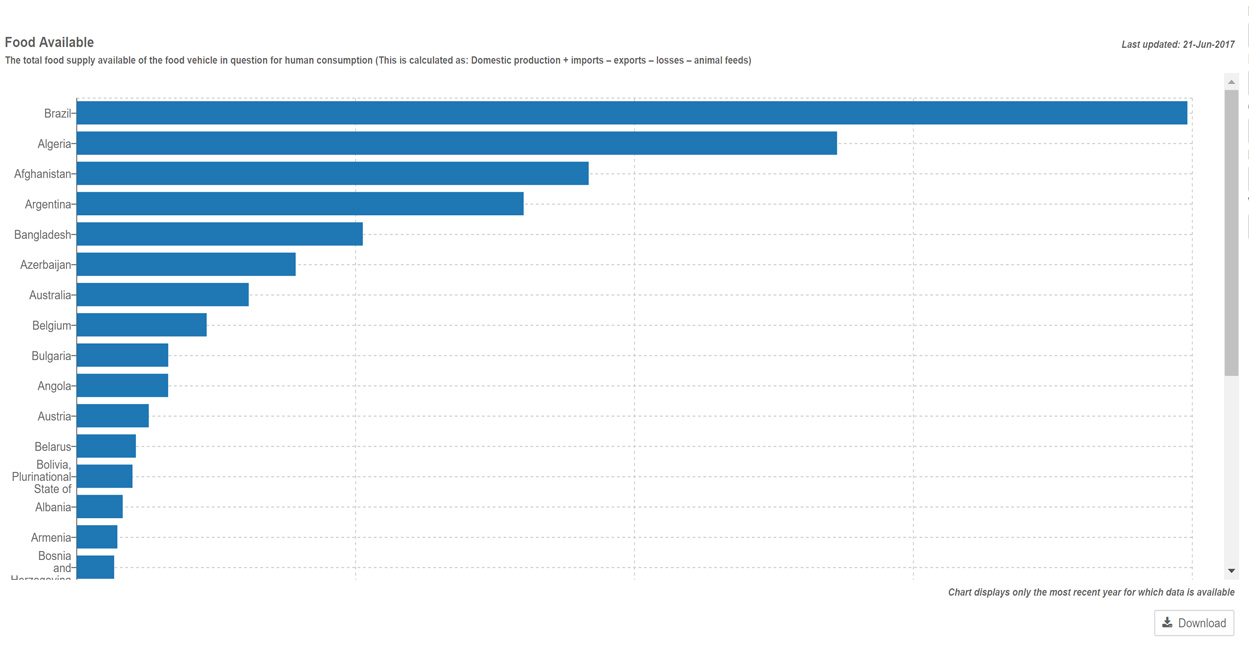 Chart: Total Food Availability
Chart showing total annual food supply available for human consumption by country (filter to select indicators and parameters)